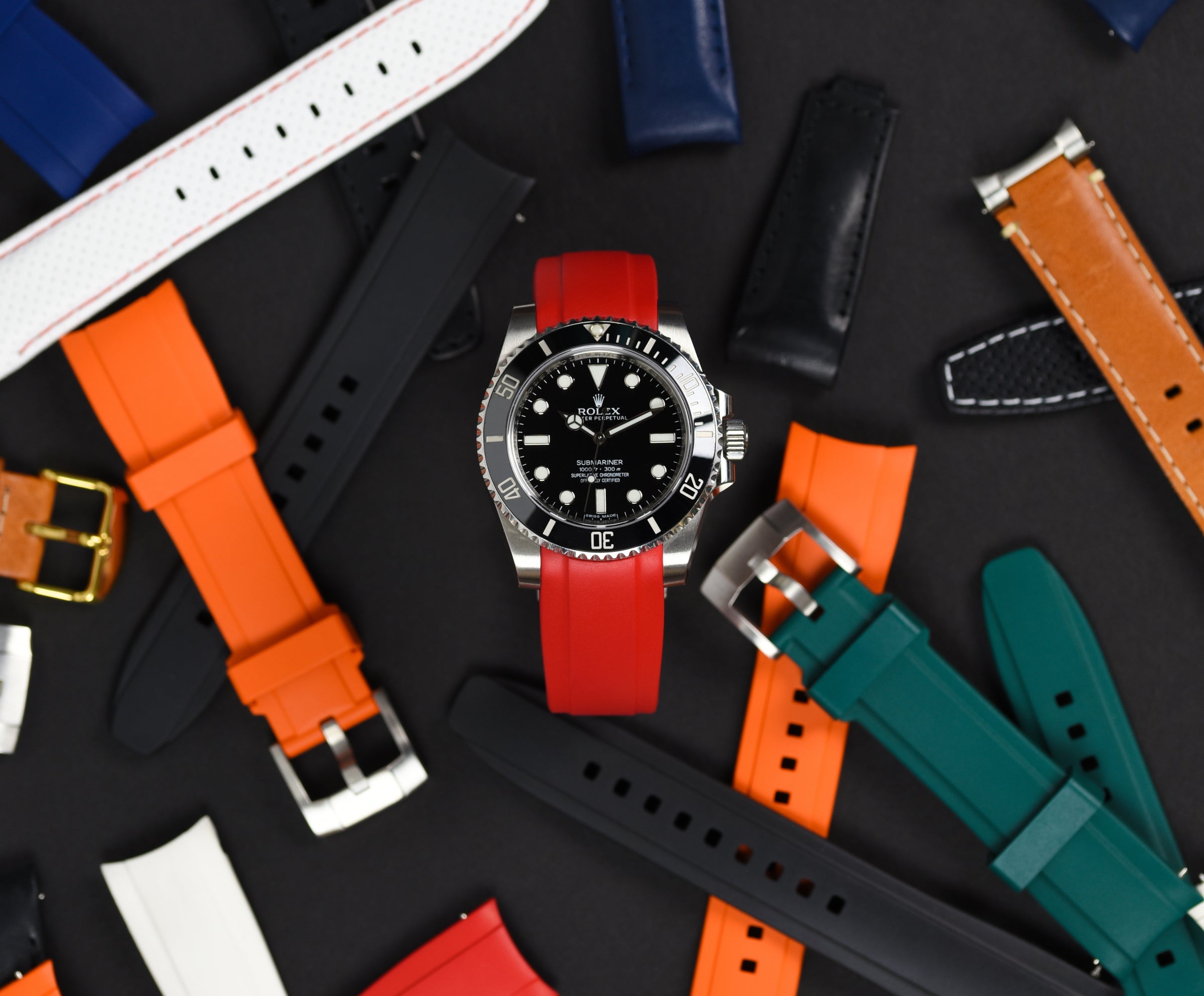 Everest Strap Technology
Learn more about Everest's quest for perfection
A Connection That Fills the Gap
Everest Bands has taken on the daunting task of perfecting a curved end watch strap that provides the solution to a 50-year-old problem - the unsightly gap between the end of a watch strap and the case of a watch. Everest's first idea for watch wearers was a revolutionary rubber watch strap for Rolex models and eventually expanded to Tudor and Panerai models as well. Over time, the idea has evolved. Everest offers various kinds of straps, including leather, nylon, and steel end link. A permanent ABS plastic insert is embedded inside the different strap material, so it will always connect flawlessly to the watch case.
Curved End Rubber
Swiss-made from FKM vulcanized rubber, the Everest Curved End Rubber straps are hypoallergenic, resistant to UV Rays, dust, stains, stretch and tear. The extreme durability of this premier rubber material is only rivaled by its incredible comfort. Everest Curved End Rubber straps are pliable, smooth, and long-lasting. The underside features airflow channels for a breathable, sweatproof experience. No detail was spared when designing this strap; it's the perfect fit for your Rolex. 
Curved End Leather
Swiss-made from the finest Italian Nappa leather, the Everest Curved End Leather straps are flawlessly executed. Giving your watch a sophisticated, classy look. There is a wide range of colors for this series: classic black, black with ecru, deep blue, rich brown, chestnut brown, chocolate brown, saddle tan and embossed alligator - both in black and brown. Each of the leather options will complement any of the Rolex models perfectly. 
Steel End Link
To celebrate the beautiful end link connection of a Rolex bracelet, Everest has created a completely unique steel end link leather strap system. The patented design connects a perfectly designed end link with an Italian vegetable tanned leather strap to the case of a Rolex models - again, removing the gap between watch band and watch case. Everest's incredibly precise stainless steel end link is made to the tolerance level only achieved by true high-end Swiss watch companies. 
Curved End Racing Leather
The Everest Curved End Leather Racing strap is made out of Italian perforated racing leather - the same fine quality leather used in Italian and German sports cars. This unique strap gives your watch a new and sporty look. Everest designed three unique color combinations of perforated leather straps that complement the look of your Rolex and mimic the interior of a sports car. The color combinations include: black with red stitch and white with red stitch. 
Curved End Nylon
The Everest Curved End Nylon straps are made of a high-quality interwoven textile material with hypoallergenic lining. Offered in multiple combinations: a black nylon, a black nylon with red accents, and a gorgeous navy blue nylon. Comfort, a seamless gap free connection to the Rolex watch case, and fantastic build quality are all once again achieved with the Swiss made Curved End Nylon Strap Series. Each of the three options will complement your Rolex, giving it a fantastic new look. 
Curved End Universal
The most recent addition to the Everest strap collection is our universal rubber, nylon and leather straps. The universal rubber straps are made out of the same Swiss-made FKM vulcanized rubber and fit any watch with a 20mm lug width. Whereas the nylon and leather universal straps fit any watch with a 20mm or 22mm lug width. The nato straps are made out of high-quality interwoven textile material and the leather are made out of Italian Nappa leather. These straps complement truly any watch flawlessly.